Picture Books
Puddleman, Kids Can Press, 1983; 1988;
New edition, Red Deer Press, 1999
Taking Care of Crumley, Kids Can Press, 1984
Simon's Surprise, Kids Can Press, 1986
Miss Fishley Afloat, Kids Can Press, 1990
Anna Takes Charge, Bramalea Centres, 1993
Sounding Off Red Deer Press, 2004
Follow Hope Springs' own Sam Foster through the very public trials and tribulations of Grade Nine - where you want to be famous and utterly invisible at the same time - in this touching and funny story of small town teens.
Hope Springs A Leak Red Deer Press, 1998
Sam Foster is hopelessly in love with his Grade Six teacher. But how can he hope to stand out when the whole town of Hope Springs is filled with eccentrics?
A CCBC Our Choice title; nominated for the Silver Birch and Hackmatack awards.

The Monkey Mountain series Red Deer Press
The concerns of the very different kids in Room Nine overlap even more than they realize as each book in the series looks at their lives through the eyes of a different character. Sometimes joyous, sometimes moving, these novels of school, friendship and family are filled with humour tempered by real life. Strong as stand-alones, the stories take on added depth when read in sequence.

Morgan Makes Magic,Morgan and the Money, Morgan's Birthday, Morgan's Pet Plot, Morgan Makes A Splash
The Morgan series Formac Publishing
Morgan eats too much, talks too much - and likes too much. Whether fibbing to make friends, struggling to keep a secret, floundering on the soccer field, or losing his shorts over swimming lessons Morgan keeps on trying. And, because - or maybe in spite of - his best efforts, what might almost be a friendship evolves under the smudgy glare of his nemesis, Aldeen Hummel, the Godzilla of Grade Three. Fast-paced, funny stories for readers just beginning chapter books.
The Morgan Series, Formac Publishing:
Morgan Makes Magic, 1997 Morgan and The Money, 1998
Morgan's Secret,1999 Great Play, Morgan, 2001
Morgan's Birthday, 2002 Morgan's Pet Plot, 2003
Morgan Makes A Splash, 2004
Maggie & Me,Greenapple Street Blues,Mushmouth & Marvel,Great Minds Think Alike,Taking the Long Way..
The Maggie and Cyril series originally Kids Can Press; now Ted Staunton
"Cyril, I've got a plan." Maggie, the brash, self-proclaimed Greenapple Street Genius is always happy to help mild-mannered Cyril with his problems - as long as he does everything she says. Follow them both as they grow and help each other through the middle grades in school and life.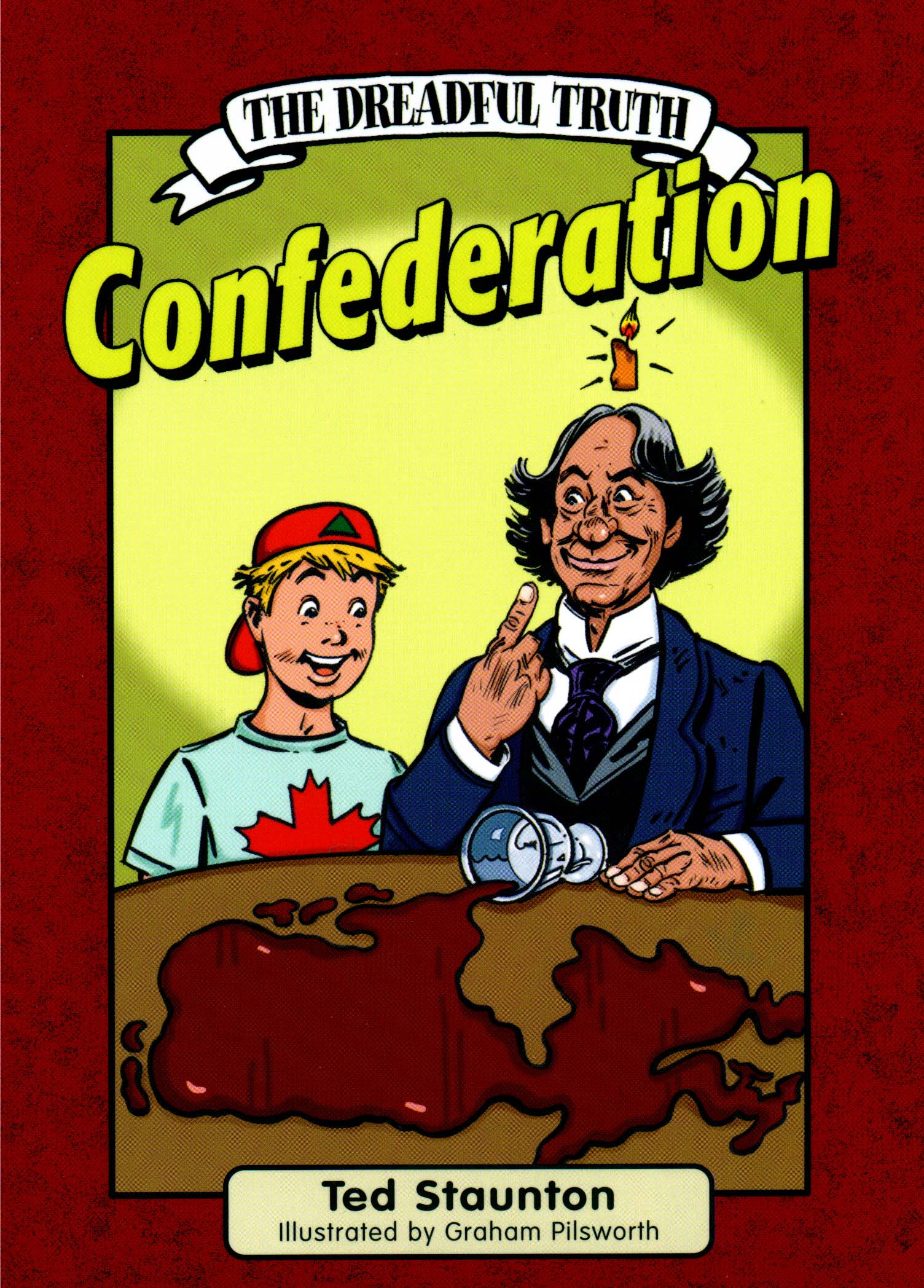 Non-fiction

The Dreadful Truth: Confederation, Formac 2004

Humour and Canadian history rarely turn up in the same sentence - except here. A witty and incisive summary of how we came to be, perfect for Grades 7&8 readers who often think "past" means "dull". Fall 2004

Contributor to:

Writers On Writing, David Booth, ed., Overlea House, 1989

Everybody's Favourites: Canadians Talk About Books That Changed Their Lives, Arlene Perly Rae, ed., Viking, 1997

Awards

I999 Silver Birch Award short list; Hope Springs A Leak

2000 Hackmatack Award short list; Hope Springs A Leak

selected nominee, CLA Outstanding Children's Book of the Year; Two False Moves

Canadian Children's Book Centre Our Choice awards for many of the above

Professional Affiliations

The Writers' Union of Canada; CANSCAIP; SOCAN